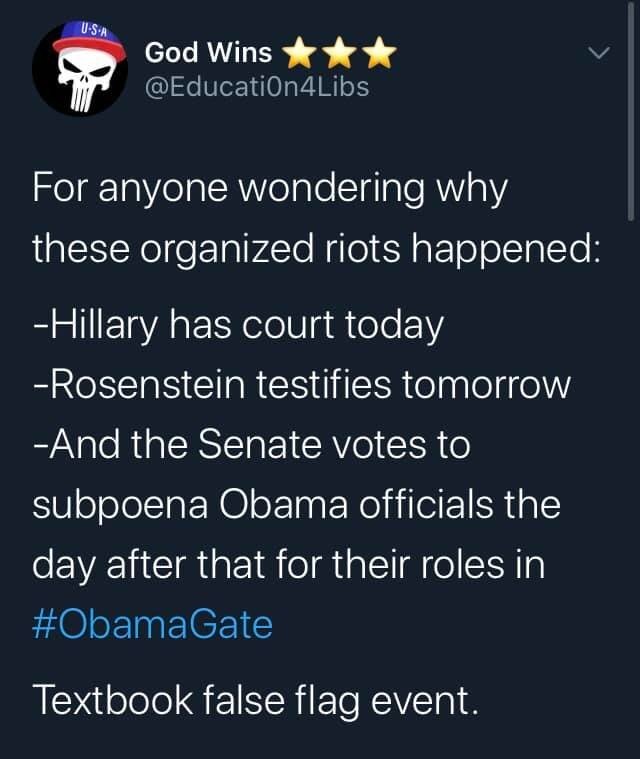 Top story:
Project Veritas conducted a long-term infiltration of antifa.
https://hooktube.com/watch?v=VLR76_e_koE&feature=emb_logo
Project Veritas Infiltrated Antifa and Released An Undercover Footage That Exposed Their Whole Operation
The most recent Q drops mention "Red 1" through "Red 6" — these seem to be key danger signs that would indicate an attempted military coup:

#
4414
Q !!Hs1Jq13jV6ID:866b8a

EAM LOYALISTS:
RED1: POTUS twitter removal
RED2: Central communications blackout [continental US]
RED3: CLAS movement PELOSI or PENCE
RED4: Movement of MIL assets [10th Mountain_1st Marine_CPSD_Marine_QVIR] to central locations under guise of citizen riot control.
RED5: NAT MIL COM CEN
RED6: SEC OF DEF _instruct1
USSS
CASTLE_ROCK
Q
9472818
4413
Q !!Hs1Jq13jV6ID:5d646d

9472679
4412
Q !!Hs1Jq13jV6ID:5d646d

9471255
4411
Q !!Hs1Jq13jV6ID:37091d

9470223
4409
Q !!Hs1Jq13jV6ID:62f1ac

https://twitter.com/jeremyfaust/status/1268615125323272192
When media and [D] elected officials [coordinate] [knowingly] attempt to prevent a 'medically verifiable' solution [prevention] re: COVID-19 [prev_death] we enter a STATE OF CRISIS.
When [D] elected officials [coordinate] [knowingly] push COVID-19 positive 'elderly' patients into nursing homes [HOT SPOT(s)_ most at risk] we enter a STATE OF CRISIS.
Your life means nothing to them [sheep].
You are a vote when it matters and a dollar sign when it does not.
Q
9469167
4408
Q !!Hs1Jq13jV6ID:00792f

https://plato.stanford.edu/entries/enlightenment/
The Enlightenment is often associated with its political revolutions and ideals, especially the French Revolution of 1789. The energy created and expressed by the intellectual foment of Enlightenment thinkers contributes to the growing wave of social unrest in France in the eighteenth century. The social unrest comes to a head in the violent political upheaval which sweeps away the traditionally and hierarchically structured ancien régime (the monarchy, the privileges of the nobility, the political power of the Catholic Church). The French revolutionaries meant to establish in place of the ancien régime a new reason-based order instituting the Enlightenment ideals of liberty and equality.
…enlightenment with the process of undertaking to think for oneself, to employ and rely on one's own intellectual capacities in determining what to believe and how to act.
Q
9468936
4407
Q !!Hs1Jq13jV6ID:00792f

9468617
4405
Q !!Hs1Jq13jV6ID:02a68a

9468549
4404
Q !!Hs1Jq13jV6ID:02a68a

9467267
4403
Q !!Hs1Jq13jV6ID:97b185

9466275
4402
Q !!Hs1Jq13jV6ID:05ff5f

9466087
4401
Q !!Hs1Jq13jV6ID:05ff5f

9456958
4400
Q !!Hs1Jq13jV6ID:424879

THE SWAMP RUNS DEEP.
Q
9456890
4399
Q !!Hs1Jq13jV6ID:424879

#
High-priority stories:
Why are Israelis allowed to create a conflict of interest when they teach US cops how to kill? Oh, right, bribery:
https://www.unz.com/proberts/israelis-trained-the-minnesota-cop-how-to-kill/
Israeli forces trained cops in 'restraint techniques' at Minneapolis conference

#
George Floyd and officer who knelt on his neck had worked at same nightclub, former owner says
Normies are noticing that Floyd George was a colleague of the cop who arrested him.
#
What killed Floyd George, according to an autopsy?
CASE TITLE: CARDIOPULMONARY ARREST COMPLICATING LAW ENFORCEMENT
SUBDUAL, RESTRAINT, AND NECK COMPRESSION
DECEASED: George Floyd aka Floyd Perry SEX: M AGE: 46
DATE AND HOUR OF DEATH: 5-25-20; 9:25 p.m.
DATE AND HOUR OF AUTOPSY: 5-26-20; 9:25 a.m.
PATHOLOGIST: Andrew M. Baker, M.D.
FINAL DIAGNOSES:
46-year-old man who became unresponsive while being restrained by law
enforcement officers; he received emergency medical care in the field
and subsequently in the Hennepin HealthCare (HHC) Emergency
Department, but could not be resuscitated.
No life-threatening injuries identified
A. No facial, oral mucosal, or conjunctival petechiae
B. No injuries of anterior muscles of neck or laryngeal
structures
C. No scalp soft tissue, skull, or brain injuries
D. No chest wall soft tissue injuries, rib fractures (other
than a single rib fracture from CPR), vertebral column
injuries, or visceral injuries
E. Incision and subcutaneous dissection of posterior and
lateral neck, shoulders, back, flanks, and buttocks
negative for occult trauma
. Toxicology (see attached report for full details; testing
performed on antemortem blood specimens collected 5/25/20 at
9:00 p.m. at HHC and on postmortem urine)
A. Blood drug and novel psychoactive substances screens:
1. Fentanyl 11 ng/mL
2. Norfentanyl 5.6 ng/mL
3. 4-ANPP 0.65 ng/mL
4. Methamphetamine 19 ng/mL
5. 11-Hydroxy Delta-9 THC 1.2 ng/mL;
Delta-9 Carboxy THC 42 ng/mL; Delta-9 THC 2.9 ng/mL
6. Cotinine positive
7. Caffeine positive
B. Blood volatiles: negative for ethanol, methanol,
isopropanol, or acetone
C. Urine drug screen: presumptive positive for cannabinoids,
amphetamines, and fentanyl/metabolite
Click to access Autopsy_2020-3700_Floyd.pdf
#
Tucker says "Never surrender to the mob." Notice how he uses that phrase "the mob" instead of "this mob" or "that mob" or "black mobs": he is suggesting that all mobs throughout history can be understood as manifestations of the same phenomenon.
#
Attorney General William P. Barr on Thursday said federal investigators have evidence foreign actors are contributing to the dissension and inflaming the violence in the wake of George Floyd's death.
Mr. Barr's comments came at a Justice Department press conference to discuss the death of George Floyd, a black man who died in the custody of four white officers last week.
Mr. Floyd's death has touched off nearly a week of civil unrest, including rioting and looting in major cities throughout the United States.
Mr. Barr at first said foreign actors were working to exacerbate the violence, but later pointed to disinformation campaigns he said have mobilized to cause chaos in the nation's cities.
"I believe we have evidence that some foreign hackers and groups associated with foreign governments are focused on this particular situation we have here and exacerbate it every way they can," he said.
"People shouldn't think that people who are hostile to the United States that their efforts to weaken the U.S. or sow discord in the U.S. is something that comes and goes in the election cycle," he said. "It is constant."
https://m.washingtontimes.com/news/2020/jun/4/william-barr-says-evidence-foreign-actors-involved/
#
Our nation is now confronting two serious threats to the rule of law. The first is a long-standing one but was recently crystalized and driven home by the killing of George Floyd in Minneapolis.
The video of police conduct in this episode is harrowing. When you watch it, and imagine that one of your own loved ones was being treated like that, and begging for their lives, it is impossible for any normal human being not to be struck in the heart with horror.
…
Unfortunately, the aftermath of George Floyd's death has produced a second challenge to the rule of law.
While many have peacefully expressed their anger and grief, others have hijacked protests to engage in lawlessness — violent rioting and arson, looting of businesses and public property, assaults on law enforcement officers and innocent people, and even the murder of a federal agent.
Such senseless acts of anarchy are not exercises of First Amendment rights; they are crimes designed to terrify fellow citizens and intimidate communities.
As I told the governors on Monday, we understand the distinction among three different sets of actors. The large preponderance of those who are protesting are peaceful demonstrators who are exercising their First Amendment rights.
At some demonstrations, there are groups that exploit the opportunity to engage in looting. And finally, at some demonstration, there are extremist agitators who are hijacking the protests to pursue their own separate and violent agenda.
We have evidence that Antifa and other similar extremist groups, as well as actors of a variety of different political persuasions, have been involved in instigating and participating in the violent activity. We are also seeing foreign actors playing all sides to exacerbate the violence.
https://www.justice.gov/opa/speech/attorney-general-william-p-barr-s-remarks-mr-george-floyd-and-civil-unrest
#
Republican Missouri Attorney General Eric Schmitt was shocked to learn that, after another night of violence in St. Louis, Democratic Circuit Attorney Kim Gardner had released all arrested protesters.
Following a night of violent riots — during which four police officers were shot and retired St. Louis Police Captain David Dorn was killed — Schmitt said his office learned that despite the fact that police had made several dozen arrests, every one of the protesters had been released.
"In a stunning development, our office has learned that every single one of the St. Louis looters and rioters arrested were released back onto the streets by local prosecutor Kim Gardner," Schmitt tweeted Wednesday.
https://dailycaller.com/2020/06/04/missouri-ag-eric-schmitt-st-louis-circuit-attorney-kim-gardner-rioters-24-hours-george-floyd-protests/
Similarly:
https://www.breitbart.com/politics/2020/06/03/nearly-all-rioters-freed-from-jail-in-d-c-most-avoid-felony-riot-charges/
#

#
Low-priority stories:
POTUS is emphasizing "law and order" on Twitter:
The Radical Left Democrats new theme is "Defund the Police". Remember that when you don't want Crime, especially against you and your family. This is where Sleepy Joe is being dragged by the socialists. I am the complete opposite, more money for Law Enforcement! #LAWANDORDER
#
How Police Unions and Arbitrators Keep Abusive Cops on the Street
Officers fired for misconduct often appeal the decision and get reinstated by obscure judges in secretive proceedings.
Conor Friedersdorf
December 2, 2014
https://www.theatlantic.com/politics/archive/2014/12/how-police-unions-keep-abusive-cops-on-the-street/383258/
#
This Color Revolution is a DNC Coup Against Constitutional Government
By Joaquin Flores – What we are witnessing in these riots is the destruction of the Democrat Party. Staging these protests was their Hail Mary, their half-court three point shot as the clock hits zero. These events are only meant to divide the people, create a breakdown of order, and create chaos.
From that chaos we would find a public reaction to the state's actions that is blamed on the Oval Office, when it was local police chiefs appointed by Democrat mayors or National Guards under the orders of Democrat mayors who provoked the public the most.
Of course the policemen in the big cities, and guards are not themselves liberal. They aren't particularly conservative either, at least not in their propensity to resort to violence first; here they are liberal with violence.
They are neither left nor right, the big city cops love big public spending when its on their toys and weapons of public terrorism. They loved the militarization of the force that Obama backed with all his power.
Just set them loose against the public, and the Democrats play good cop bad cop. Allow corruption and institutional misanthropy to fester while departments pretend to conduct 'sensitivity training', and then set them loose on the people after order is allowed to break-down on purpose. Then try to channel all those frustrations against 'right wing things' to support more Democrats who make 'left wing promises'. Rinse, and repeat.
It divides the people among age lines, race lines, class lines, and geographic lines.
The real reason people are looting is that people will always loot when there is a break-down of order. We are only being pedantic if we insist on pointing out that there are underlying conditions – unemployment, exclusion, alienation, nihilism, corruption, greed – exacerbate these. Those are unresolved problems that society refused to address. That's already the 'givens' of the situation before going into it. Anyone playing with that fire already knows these are the givens.
By creating a society based on these tensions, a strategy of tension always works. This is why the 'thin blue line' ideology of police is always reified and appears to be true from the perspective of police culture.
Democrats are absolutely committed to destroying their party. They are attacked by the Trump side for being socialists, when at the same time their lack of legitimacy among their own base is the result of their decidedly anti-socialist and pro-corporatist politics.
FLORES: This Color Revolution is a DNC Coup Against Constitutional Government
#
Seattle Office of Police Accountability
@SeattleOPA
Chief Best just ordered officers to use mourning bands that do not cover their badge numbers. OPA will continue to look into this issue, including investigating allegations that officers purposefully withheld identifying information from demonstrators.
#
Navy Veteran Michael White on His Release From Iran: 'I Want to Thank President Trump'
President Trump on Thursday announced 48-year-old Navy Veteran Michael White, who had been detained in Iran for over a year and a half, was on a Swiss plane on his way back to the US.
"We expect him to be home with his family in America very soon," Trump wrote. "I will never stop working to secure the release of all Americans held hostage overseas!"
According to the State Department, White was arrested in the city of Mashhad in 2018 and was sentenced in 2019 to 13 years for insulting Iran's Supreme Leader and posting private information online.
Michael White's mother Joanne told the New York Times last year that her son had traveled to Iran to visit his girlfriend.
Joanne White said, "For the past 683 days my son, Michael, has been held hostage in Iran by the (Islamic Revolutionary Guard Corps) and I have been living a nightmare. I am blessed to announce that the nightmare is over, and my son is safely on his way home."
Michael White thanked President Trump when he landed in the US.
Navy Veteran Michael White on His Release From Iran: 'I Want to Thank President Trump' (VIDEO)
#
Chicago Shootout As Latin Gangs Protect Neighborhood From Alleged Looters
As more and more people take matters into their own hands to deal with the looters and rioters, even the Latin gangs in Chicago are coming off looking like the good guys, as they are fighting off the looters. It appears as though several shootings took place, as you can hear shots ringing out as people start scattering.
Here is one of the videos from one of the encounters:
In another video, we see a few more shootouts, as well as the gangs ramming their big trucks into the looters' cars. One guy hollers out "F the looters, n, we protect this hood. .. . I had A whole group fo m*f*s out here trying to loot, they were just parked right here, we f* said no, get the f* out of our f** neighborhood. We will not let our f** neighborhoods f** burn!"
It appears as though this took place in Cicero, just west of Chicago.
WGN reports:
Four people shot, two fatally, in Cicero Monday as unrest and protests over the killing of George Floyd continued for another day.
Town spokesman Ray Hanania confirmed the deaths to WGN News. Hanania said at least 60 people were arrested Monday.
Hanania said there have been "outside agitators" that have entered Cicero "after being rebuffed by the closure of downtown Chicago. The only shots fired have been by these outside agitators and looters who are not Cicero residents."
The identities of the people who were killed have not yet been released. No further information was provided.
Chicago Sun Times adds:
During a night of unrest in Cicero that left two people dead, some residents say police officers allowed Latino gangs to patrol the community with bats and crowbars to fend off looters.
Cicero's police superintendent called those allegations "ludicrous."
There also were reports on TV and social media of business owners on rooftops with assault rifles and other guns ready to prevent destruction of their businesses.
And some residents accuse Latino gang members of targeting African Americans driving on Cermak Road.
Shapearl Wells, an African American resident of Cicero, said she and her family were targeted Monday afternoon on Cermak.
It happened first to her cousin, who was driving out from Chicago to visit her. She was at a red light on Cermak Road and Central Avenue when a group of men approached the cousin's car.
"They told her, 'You not from around here you n – – – – – bitch,'" Wells said.
She told Wells what happened when she arrived. Wells, who's lived in Cicero since 2003, was stunned. She went out for a drive to see for herself.
At some point, "about 20 to 25 Latin Kings" approached Wells' car. "I rolled down my window and they told me I would only be OK if I go in the house and stayed inside."
She said she called the police to tell them what happened, but nothing was done.
VIDEO: Chicago Shootout As Latin Gangs Protect Neighborhood From Alleged Looters
Interestingly, the book Civil War II (by Tom Chittum) analyzed gangs as militias. And on that note, a militia issued a warning that they might be similarly violent to looters and other antifa:
A Beautiful American Militia In Idaho Has A Message For Antifa: STAY THE F**K OUT!!!
In a separate report on the same town, several of the men shown in the video at the previous link give their words:
COEUR d'ALENE — Reports and rumors that groups bent on rioting and violence in Coeur d'Alene brought out men and women with guns on Monday determined to stop them if they arrive.
Dan Carson was patrolling Sherman Avenue with an AR-12 semi-automatic 12-gauge across his chest, an AR-15 strapped to his back, two 9mm handguns holstered and a .38 special, too.
"I heard there are some people on the way who shouldn't be here," he said early Monday evening.
Those people, he said, were Antifa and Proud Boys, militant far-left and far-right groups.
Carson said he was in Spokane Sunday night helping protect business there. He said he supports the right to protest and is also upset about the death of George Floyd.
"By all means. I'm on their side. I disagree with what happened," he said. "What I don't agree with is when you turn to violence, and you start rioting and destroying businesses and hurting people who have nothing to do with anything.
"That's what I'm here to hopefully prevent," he said, adding, "I'm not going to be alone. There's a lot more on the way."
He was right. Soon, more armed men, self-described as a loosely formed group of patriots, arrived. They took up posts at corners on both sides of Sherman Avenue.
Later, they were joined by hundreds of citizens packing rifles, semi-automatic weapons, handguns, and bows and arrows.
The sidewalks were packed with people walking up and down Sherman Avenue, firearms proudly displayed for all to see.
They carried guns, had them holstered around their hips and had them strapped across their backs.
It was literally a call to arms — and people responded. Armed citizens proudly turned up with guns and American flags. They sent a clear message: North Idaho will protect its own.
Brothers Austin Machado, carrying an AK-47, and Arick Machado, packing a 6.5 x 55mm Swedish rifle, stood in front of the Moose Lounge about 10 p.m.
"I just want to protect my favorite bar," Austin Machado said. "I used to be a bouncer here. It's my favorite bar and I'm going to protect it."
Arick said they were also there to observe and act as a deterrent to any potential trouble.
"To show that you don't throw cinder blocks through a bar window," Austin said.
A few businesses had windows boarded up.
Four friends stood in front of All Things Irish holding an American flag.
"To support Americans and police that are protecting us," said Hunter Williams when asked why they were there.
None of them had firearms.
"Peaceful protest, man," said Caleb Hvizdos.
Earlier, more people gathered to protest outside WinCo on Appleway Avenue Monday afternoon.
Christy Robinson, holding a sign that read, "Black Lives Matter," said "Many of the people I love are people of color. They're part of my family, they're part of my life and they're in my heart."
She said she understands why people are upset — and can feel their pain — about the racial injustice that continues to go on in America.
"It's making me angrier and angrier," Robinson said. "Instead of a horrible outlet like burning things or destroying them, I'm trying to have a positive outlet and just get my message out there."
One woman holding a sign and wearing a mask declined to give her name.
"Everyone is equal in this world," she said. "If people aren't going to accept that, then we're going to make it happen."
Mylieanna Agee, who recently moved to Coeur d'Alene, said their goal was to create awareness of police brutality that's going on in the world.
All lives matter, she said.
Her group had no desire to start trouble, Agee said.
"We're just trying to keep it peaceful," she said.
Earlier, in the WinCo parking lot, a group of about 40 men and women, some carrying semi-automatic weapons and handguns, stood watch due to what they said were threats of left-wing militant groups coming to start riots at the store.
"We came here as a show of force and as a deterrent to prevent that from happening," said Trevor Treller, who had an AR-15 and a Glock 19 handgun. "Nobody here wants a confrontation and everyone here is wiling to engage in one if it ever should it come to that, or need to be. But nobody wants it and everyone prays it will never happen."
Treller said they had been there for a few hours and nothing much had happened, expect some people "clad head to toe in black" drove by and shouted obscenities at them.
"They left. It's quite possible they left because we're here," he said.
Treller described the group he was with as "a loosely joined group of patriots who love our state, love the city of Coeur d'Alene and won't tolerate seeing any violence being perpetrated against it."
"We just want to make sure nothing violent or nothing criminal happens in our city," he said.
Like Carson, he said he had heard reports, verified by people in positions who would know, that people with Antifa were being bussed in "for the purposes of causing trouble and rioting."
He noted that Spokane, where there were riots and looting late Sunday, is only 35 miles away.
"It's not inconceivable that some very foolhardy, idiotic people in Spokane who are of a mind to commit violence would think they could get away with trying it here," Treller said. "We're here to tell them different."
Pastor Tim Remington also was on hand.
"We're just here to minister to people in case it starts getting heated," he said. "We don't want anybody getting hurt."
Police arrived and told the group they had to leave the WinCo parking lot, as it was private property, so they went to Appleway, across the street from those holding Black Lives Matter signs. The two sides later reportedly came together.
As he walked away, a man who said his name was Rescue said he was there to make sure "everybody has a chance to speak their mind but not get out of control."
Rescue carried an AR-15 and two .40-caliber handguns. He said he and his counterparts were prepared if trouble came to Coeur d'Alene.
"We have people all over town," Rescue said. "The rumors are, they're going to be in numerous places and they had a scout in here earlier counting our numbers and reporting to somebody."
Brett Surplus of Coeur d'Alene, a former police officer, said he was there to defend people's businesses and protect people's right to free speech.
He said a show of force by armed citizens may prevent problems.
"We sit back long enough and see America not help their blue line because of the fear factor or they're not armed," he said. "This is where the end of the line stops in this state."
Surplus said he is a hunter and fisherman and loves Idaho.
"I want to protect our way of life," he said.
https://cdapress.com/news/2020/jun/02/armed-patriots-patrol-coeur-dalene-5/
#
Yes, George Soros Sent Money to Fund the Riots—and So Did Taxpayers
Ever since the protests turned to riots over the death of George Floyd in police custody in Minneapolis, rumors have flown that George Soros and his Open Society Foundation had to be involved. After all, OSF funded Black Lives Matter in 2015. It didn't take long to reveal the financial ties to current riots and to show that OSF and George Soros directly support the movement today. Particularly infuriating are the taxpayer-funded grants received in conjunction with the Soros funding.
Daniel Bice of the Milwaukie Journal-Sentinel reports that a group called Freedom, Inc. has received grants from the Wisconsin Department of Justice:
The Madison-based nonprofit has advocated for the release of all African Americans from jail and the defunding of police departments. As for the current protests, the group's leaders say "all actions against racist state violence are justified."
"Stop murdering black people, and your glass will be safe," Monica Adams, co-executive director for Freedom Inc., said while leading the third day of police protests in the state's capital on Monday.
"Thank all the youth freedom fighters who were in the streets fighting (Sunday) night and Saturday night," said Mahnker Dahnweih, community power-building coordinator for Freedom Inc. "Every action is a contribution to liberation."
So where does a group like this get the money it needs to promote its agenda?
A lot of it comes from you.
Records show that the state has awarded contracts and grants worth $3.6 million to Freedom Inc., which advocates for minority and LGBTQ communities, over the past five years.
That includes $876,674 in federal grants awarded by the state Department of Justice since January 2019, when Attorney General Josh Kaul took office. The state Department of Children and Families has paid out $732,403 to Freedom Inc. under Gov. Tony Evers over the past 1½ years.
https://pjmedia.com/news-and-politics/jeff-reynolds/2020/06/03/yes-george-soros-sent-money-to-fund-the-riots-and-so-did-taxpayers-n487939
#
Donald E. Newhouse appears to be a Commie:
#
#
https://www.unz.com/jcook/as-us-protests-show-the-challenge-is-how-to-rise-above-the-violence-inherent-in-state-power/
#
https://www.naturalnews.com/2020-05-28-bill-gates-vaccine-empire-extreme-censorship-science-vaccine-safety.html
#
Black murders of whites go unreported, but white inconvenience of blacks is reported.