I have long loved the "satisfact" meme and I might use it a lot in the near future.
Gamer geeks sometimes do real journalism. Imagine my amazement:
There is a limit to how many news articles I am willing to look at. Bring on the memes.
Meanwhile:
Lithuania pulls diplomats from China as row deepens over Taiwan ties
Vilnius fears Beijing's demands of downgrading status could strip officials of diplomatic immunity
https://www.ft.com/content/587cff8f-3a7f-45c3-b4c7-8ac6f3e0aa9c
https://www.dispropaganda.com/single-post/japan-says-no-to-vaccine-mandates-passports-and-discrimination-against-unvaxxed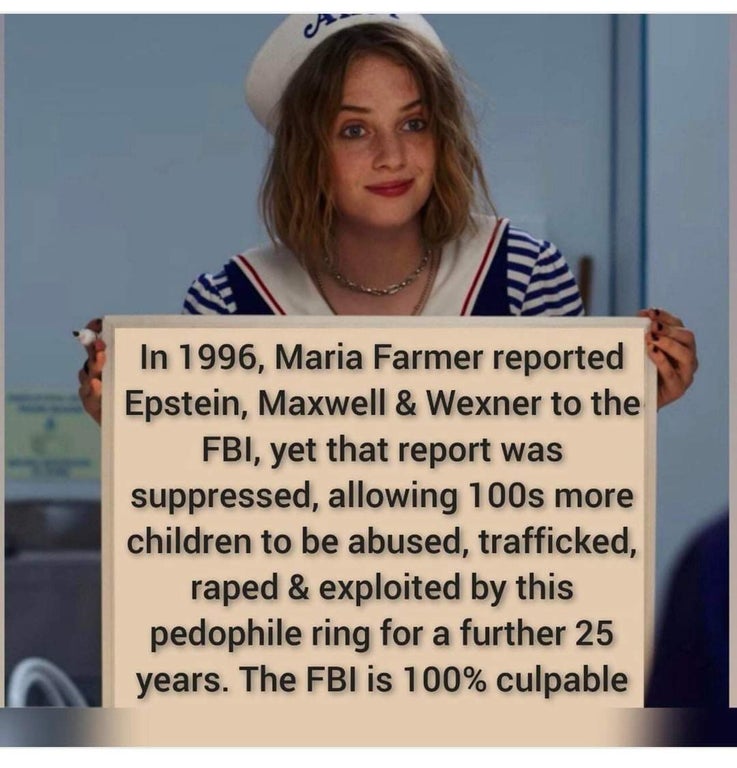 Decorated Army Veteran and Others ARRESTED by NYPD in The Cheesecake Factory after REFUSAL TO SHOW PROOF OF VACCINATION! Intense VIDEOS, MUST Watch!!
Pelosi Defends Lawmakers Trading Stocks as Report Shows 49 Members of Congress Violated Law Designed to Stop Insider Trading (VIDEO)
'In the Biden Admin's Absence, Texas is Stepping Up to Get the Job Done' – Construction of Texas-Mexico Border Wall to Begin Soon
MIT Doctor in UK House of Commons: "Not Safe for People Who Know the Origin of the Pandemic to Come Forward"
WHAT CONFLICT? Jake Sullivan's Wife Is Now Overseeing the Durham Probe that Is Looking Into Her Husband's Potential Wrongdoing in Trump-Russia Attempted Coup
Not The Bee: Former Danish Minister to Be Sent to Prison for 60 Days for Opposing Child Marriages
"I Hate to Say It But We're a Fascist Country at This Time" – Rudy Giuliani Drops a Truth-Bomb in Latest Interview (VIDEO)
https://www.justice.gov/usao-sdny/pr/former-management-consulting-firm-partner-pleads-guilty-insider-trading
https://cen.acs.org/research-integrity/misconduct/Harvard-Charles-Lieber-trial-China-daily-updates/99/web/2021/12?utm_source=Newsletter&utm_medium=Newsletter&utm_campaign=CEN
https://justthenews.com/government/security/biden-admin-under-pressure-end-trump-program-catch-chinese-spies
https://dailycaller.com/2021/12/15/mexican-nationals-illegal-immigrants-offer-reporter-nine-year-old-girl-smuggling/
https://thefederalist.com/2021/12/15/breaking-january-6-committee-admits-it-doctored-text-message-between-meadows-and-jordan/
VIRGINIA: CIA Agent-Turned-Democrat House Rep Will Lose Seat After Redistricting
https://nypost.com/2021/12/15/fbi-agents-had-sex-with-prostitutes-overseas-then-denied-it/
http://www.ahrq.gov/news/newsroom/press-releases/stepup-app-phase2-winners.html
https://www.ahrq.gov/news/newsroom/press-releases/stepup-app-phase2-winners.html
https://www.wsj.com/articles/notable-quotable-elections-bellwether-counties-vote-hispanic-latino-2020-presidential-race-2022-11639433895?st=0xl3e4pyxiolh0w&reflink=desktopwebshare_twitter
https://justthenews.com/politics-policy/all-things-trump/trump-says-pence-lacked-courage-during-event-bill-oreilly-teases
President Biden's Senior Advisor Just Quit As Crisis Deteriorates
Chuck Schumer, Who Pushed Russia Collusion Hoax, Has Been EXPOSED For Being on Putin's Payroll
Going Viral: Dr. Peter McCullough Joins Joe Rogan – Says Medical Elites "Purposely Suppressed Treatments" in Order to Force Mass Vaccinations
Biden Says the Quiet Part Out Loud: "The Struggle is No Longer About Who Gets to Vote… It's About Who Gets to Count the Vote" (VIDEO)
https://www.theepochtimes.com/despite-media-claims-steele-was-central-to-establishing-the-russia-collusion-narrative-truth-over-news_4157187.html
https://www.the-sun.com/news/2104248/gina-raimondo-husband-andrew-moffit-joe-biden/
https://www.nbcnews.com/politics/national-security/advising-both-chinese-state-companies-pentagon-mckinsey-co-comes-under-n1283777
https://www.realclearinvestigations.com/articles/2021/12/14/us_drug_agents_ramp_up_fentanyl_counterattack_on_chinese_mainland_-_as_dea_faces_its_own_troubles_at_home_807483.html
https://www.realclearinvestigations.com/articles/2021/07/14/research_used_to_justify_californias_racial_equity_math_doesnt_add_up_784966.html
What is AdBlue and why can an international shortage bring Australia's economy to its knees?
https://cleantechnica.com/2021/12/04/crisis-in-australia-adblue-chemical-shortage-might-render-diesel-trucks-inoperable/
https://www.dailymail.co.uk/news/article-10310191/Today-reporter-heckled-stop-lying-world-cross-Omicron-Newcastle-NSW.html
Journalist Finds Mexican Streets LITTERED With UN Docs Telling Illegals How To Enter America
Border Hawk's Wid Lyman recently traveled to Mexico and found UN documents littered everywhere. Hear from him first on National File TV.
Watch today's episode of National File TV on Odysee: "Journalist Finds Mexican Streets LITTERED With UN Docs Telling Illegals How To Enter America"
Short on time? See something you like? Check out today's first segment on Rumble: "Merck's New COVID Drug Might Mutate Your DNA And Cause Birth Defects, Cancer"
Big Pharma's latest COVID cash cow may come with new and exciting side effects, including permanently damaging your DNA!
Or today's second segment on Rumble: "Haitian IDs, UN Pamphlets, and Flip Flops: What One Journalist Found In A Mexican Border Town"
Border Hawk News' Wid Lyman traveled to Mexico to see what illegal immigration looks like from south of the border, and it wasn't pretty. He joined National File in studio to tell us more.
[Full Show] Journalist Finds Mexican Streets LITTERED With UN Docs Telling Illegals How To Enter America
15 lawmakers profiting from defense industry investments while running US defense policy: Report
Fifteen lawmakers serving on House and Senate committees that shape U.S. military policy are profiting from investments in prominent defense contractors benefited by the very policies they influence, according to federal financial records analyzed by Business Insider this week.  
Insider examined nearly 9,000 financial reports for every sitting member of Congress, as well as their top staffers, as part of a broader effort dubbed the Conflicted Congress project, which aims to identify possible conflicts of interest among lawmakers in Congress. Both Democrats and Republicans serving on the Armed Services committees have combined defense industry investments nearing $1 million as of 2020, and they're continuing to invest and cash in.
Among the contractors that appeared in the committee members' financial disclosures were Lockheed Martin Corp., Boeing Co., Raytheon Technologies Corp., Honeywell, and General Electric. Each company is known for spending millions to lobby the federal government in an effort to win lucrative government contracts and shape public policy.
One of the congressmen on Insider's list is 16-term Rep. Jim Cooper (D-TN). Cooper, who leads the House panel's Strategic Forces Subcommittee and owned $65,000 worth of General Electric (GE) stock by the end of last year.
According to GE's website, the company is a "leading supplier of integrated systems and technologies for combat aircraft, military transport, helicopters, land vehicles and unmanned aerial vehicles (UAVs)" that works to enable "armed forces around the world to improve reliability and enhance operational performance."
"Using a legacy as a world-class leader in the industry, GE is making the future of military air and land procedures safer, stronger and more dynamic than ever before," the website continued.
Rep. Pat Fallon (R-TX) was documented buying and selling nearly $1.4 million in Boeing stock in 2021, and reported owning $50,000 in General Electric stock.
Insider further reported that the wife of Rep. Ro Khanna (D-CA) – who continues to serve on the House Armed Services Committee – invested hundreds of thousands of dollars in several defense contractor stocks last year, including Boeing, General Dynamics, General Electric, Honeywell, Northrop Grumman, and Raytheon.
"My wife has assets prior to marriage which are legally not mine, and it's not my place to tell her what to do with her separate assets," Ro Khanna told Insider.
Rep. Rob Wittman (R-VA) denies knowing about $15,000 worth of Lockheed Martin stock and another $15,000 in Honeywell that appeared in his financial records.
A spokesman for Wittman said in an email that the congressman "believes members of Congress should not improperly benefit from their role" and that Wittman "remains committed to accountability and transparency in government."
15 lawmakers profiting from defense industry investments while running US defense policy: Report
Dozens of federal lawmakers and at least 182 top congressional staffers are violating a federal conflict-of-interest law known as the STOCK Act. Others are failing to avoid clashes between their personal finances and public duties.
https://www.businessinsider.com/financial-conflicts-congress-members-rated-2021-12?r=AU&IR=T
At least 15 lawmakers who shape US defense policy have investments in military contractors